Our Selection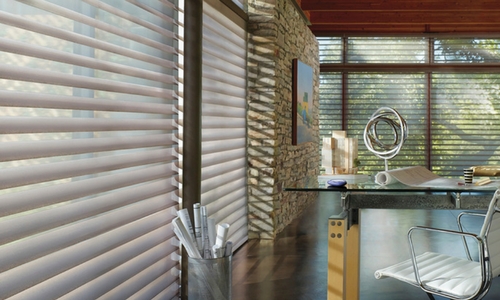 Hunter Douglas is without a doubt one of the most highly sought-after names when it comes to window treatments. We at River City Carpet One are therefore excited to offer one of the Red Wing area's best selections Hunter Douglas window treatment options, including blinds and shades.
Blinds
Blinds are a popular choice for windows because they do well to regulate sunlight, and because they are relatively easy to maintain. For natural looks, be sure to choose wood blinds or faux wood blinds. Faux wood blinds look like they are made from real wood, but they actual feature a composite construction for extra durability. In addition to wood and faux wood, you can choose metal blinds from Hunter Douglas as well.
Honeycomb Shades
Honeycomb shades, or cellular shades, are becoming more and more popular in home settings. Like blinds, honeycomb shades can regulate sunlight and increase privacy, but they are more known for their three-dimensional construction (like a honeycomb). Because of this construction, honeycomb blinds are energy-efficient, as they can help keep your home cool in the summer and warm in the winter.
Silhouette Shadings
Are you looking for a truly innovative window treatment option? Check out Silhouette shadings (pictured above) from Hunter Douglas. Silhouette shadings have fabric vanes (called Signature S-Vanes) that do well to control sunlight. These vanes can be closed to block sunlight, or they can be opened to regulate sunlight. Moreover, the vanes protect your flooring and furniture from harmful UV rays.