High-Quality Laminate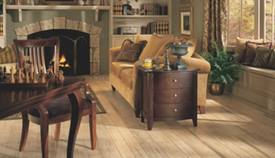 Armstrong laminate flooring combines natural beauty with long-lasting durability to create a floor that is perfect for your next home project. What sets Armstrong laminate apart from other laminate options?
Inner Core
Armtrong laminate has a special inner core, called HydraCore, that makes it more durable than the average laminate floor. HydraCore is made from high-density fiberboard, so it provides strength, durability, sound absorption, and moisture resistance. For extra durability, check out Armstrong laminate with HydraCore Plus.
Product Versatility
Armstrong offers tremendous versatility when it comes to its laminate flooring options. You can choose from different colors, wood or tile looks, and glosses. You can even choose thicker planks or tiles if foot traffic is an issue. Armstrong also offers trim and molding pieces that will perfectly coordinate with your newly-installed laminate floor.
Installation
Many of Armstrong's laminate floors can be installed using the patented Lock&Fold technology. With this technology, even skilled DIYers can install the floor! No special tools or adhesives are needed, so the installation is definitely quick and easy.
Health and Safety
Armstrong laminate meets or exceeds all health and safety requirements pertaining to formaldehyde emissions. It is certified by agencies such as the California Air Resources Board (CARB), so you can rest easy knowing your Armstrong floor contributes to a healthy environment.
Visit River City Carpet One in Red Wing, MN to check out our selection of Armstrong laminate and other Armstrong flooring options!